The CI-203 collects length, width, perimeter, and area measurements directly using a combination of a sweeping laser beam and an optical motion sensor. Once activated, the device sends a low energy laser beam across the laser window 500 times per second at a rate of 150 m/s. As the user moves the
CI-203 wand down the leaf, an optical sensor records the motion, and the onboard processing unit collects the data. Each laser sweep uses the optical sensor data to correctly accumulate the area and perimeter measurements. When the optical sensor detects that vertical motion has stopped, the laser subsystem stops taking measurements and the processing unit computes and posts the final results.
The perimeter increment is calculated and added to the perimeter accumulator. The perimeter increment is calculated using the function: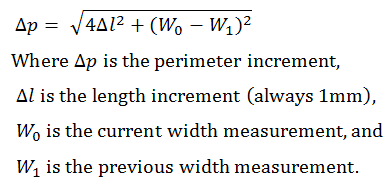 Computing Ratio and Shape Factor
Aspect ratio and shape factor information are calculated from the measurements collected by the CI-203. The calculations used are shown below.
Aspect ratio is the ratio of the leaf length to its maximum width: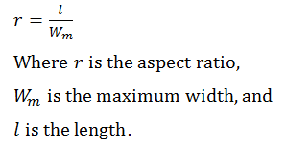 Shape factor is the ratio of the leaf area to the leaf perimeter, corrected so that the shape factor of a circle is equal to 1: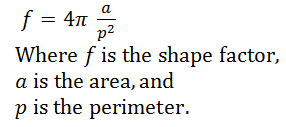 Specifications
Measuring Thickness:

1.4 cm

maximum

---

Measuring Width:
15 cm maximum

---

Measuring Length:
300 cm maximum

---

Resolution:
0.01 cm2

---

Accuracy:

±1% for samples >10 cm²

---

Interface:
USB 2.0

---

Scanner:
670 nm

---

Dimensions:
35.5L x 4.5W x5H cm

---

Weight:
975 g

---

Display:
Transflective graphic

---

Scanning Speed:
200 mm/second

---

Battery:
7.2 volt rechargeable NiMH

---

Battery Capacity:
Over 250 scans per charge

---

Operating Temperature:
0-50° C

---

Data Storage:
16 GB SD card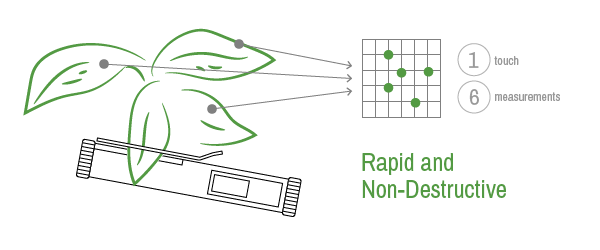 Features
Single-action Data Collection—sweep the CI-203 over a leaf to yield seven measurement parameters: area, width, length, perimeter, shape factor, ratio, and void count
Non-destructive and multipurpose
Flattens curled leaves to provide accurate measurements
Durable, lightweight, and intuitive
Graphic display of leaf outline for scan verification
GPS tagging to provide location data for each measurement
SD Card for data storage and transfer with virtually unlimited storage capacity
USB charging and data download
Rechargeable battery
Measures objects up to 15 cm wide and 1.4 cm thick of virtually unlimited length
Conveyor Attachment (CI-203CA) is available for fast, whole plant destructive measurement in the field or lab
No calibration required
How to Use it
To measure leaf area, simply sweep the measuring wand over the leaf, and the CI-203 instantly scans and calculates the leaf area, width, length, perimeter, shape factor, aspect ratio and void count.
The CI-203 is flexible as well as fast: use in the field to measure living leaves on plants one-by-one, or add the conveyor attachment and measure hundreds of individual detached leaves at a time.
The CI-203 stores over 15,000 data points, and displays data on the LCD screen. Download measurements to a computer later for further analysis via the SD card.
In the Box
The CI-203 Handheld Laser Leaf Area Meter includes:
Laser leaf area meter main unit
Battery charger
Operating manual
SD Card
Micro USB cable
Hard-shell instrument carrying case